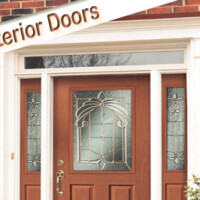 The beauty of wood so detailed you can't tell its not wood
Our products deliver the beauty of real wood with the low-maintenance durability of fiberglass. Raised molding, features, and a true wood grain appearance come in one door collection with five exquisite designs.  These doors are per-finished in your choice of colors with matching specie frame, a choice of bronze, brass or antique nickel still finish and matching color hinges.
All doors come complete with moldings with unbelievable choices. As this page grows visit us to find more product guides from other manufacturers.
Therma-Tru understand the process of buying patio doors .  The process can be daunting.  Therma-Tru's claim is that they make it a great entrance, they make choosing the door easy, ensure tat door choices are complementary to your home style.  Through Therma-Tru we can offer you
Forest Lumber carries all of Therma-Tru's products. Learn more by visiting there website.
Therma-Tru Website
Masonite fiberglass doors are engineered to last a lifetime.
Masonite's proprietary blend of premium fiberglass composite materials provide maximum protection and durability with superior thermal barrier – will not dent, resists splitting, cracking and warping.
Low maintenance and energy efficient. Engineered stiles provide excellent dimensional stability for harsh weather climates. Bottom rails are not and corrosion resistant.
Masonite Steel doors offer premium long term value.
High-definition decorative panel profiles closely replicate the appearance of a quality smooth wood door.
Customize your door with the addition of decorative Specialty Glass inserts for a truly grand entrance.
Both doors include rot-resistant bottom rail, reinforced internal lock black and are available with your choice of wood or steel edge construction and fire-rated options