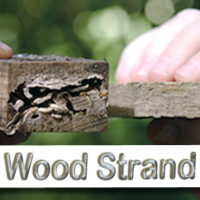 LP® SmartSide® products deliver all the warmth and beauty of traditional wood, plus the durability and workability of engineered wood. Our SmartGuard® manufacturing process actually improves upon nature, creating products that are engineered for strength, performance and protection against fungal decay and termites. The LP SmartSide family features four distinct product collections, all backed by an industry-leading 5/50 Year Transferable Limited Warranty.
Since 1996 representatives LP SmartSide® Strand Substrate Siding has undergone brutal testing in Hilo, Hawaii. An average temperature of more than 70 degrees, high humidity and almost a 1/2-inch of rainfall daily, makes Hilo's climate the perfect breeding ground for wood's worst enemies – termites, moisture and fungal decay. After over a decade of testing, that siding is still standing strong.
LP® SmartSide® Trim & Siding products deliver the beautiful, authentic look of real wood. But they offer multiple advantages over traditional wood trim and siding materials. They're free of knots so you don't waste time sorting through flawed pieces. And unlike traditional wood, LP SmartSide Trim & Siding products resist cupping and warping. They're factory pre-primed to take paint well, delivering optimal adhesion and consistent application. And our proprietary SmartGuard® manufacturing process helps protect against termite damage and fungal decay. Here's some more smart protection: our 5/50 Year Transferable Limited Warranty provides a 5-year, 100% labor and replacement feature and a 5/50 Year Prorated Limited Warranty on the product. The difference is clear. LP SmartSide products are the smart choice.
LP Smart Side Website