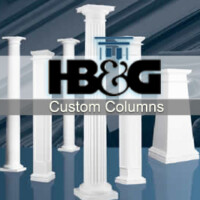 HB&G is a Custom Column Manufacturer
HB&G offers the widest selection of porch products available on the market. With a variety of sizes and styles, HB&G has the porch accessories to meet the needs of any project. The HB&G Product Collectionmincludes Round PermaCast® Columns, Square PermaCast® Columns, PermaWrap® Columns, PermaLite Columns, PermaPost®, PermaPorch® Railing, Builder Select Railing, Balustrade Systems, PermaPorch Ceiling, Pergolas, Medallions and Brackets. Also available are wood columns and Perma Lamp Posts.
Choosing the right cap and base for your columns is as import as the section of the column itself. The right cap and column can be found in HB&G's extensive selection of Perma products. If you are looking for beautiful columns for your home you have come to the right place. Whether you are looking for a cap, column, base or all the the above HB&G has a number of different products for you.
HB&G Product Lines Carried
Product Brochure

Lear more about HB&G's products by visiting their website pages linked here.