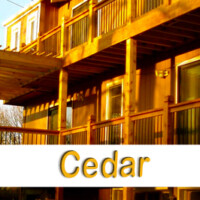 For centuries builders have valued Western Red Cedar for its natural beauty and durability. Cedar offers the following natural characteristics to add beauty and performance for any housing project.
Dimensional Stability – Cedar offers low density and shrinkage factors, and exceptional thermal insulation value.
Workability – Cedar is easy to cut, form, flue and finish.
Natural Preservation – Cedar contains natural preservatives that resist moisture, decay and insect damage.
Flame Spread and Smoke Development Ratings – Cedar exceeds safety classifications and does not require preservatives treatments.
All Weather – Cedar is naturally at home in the sun, rain, heat and cold all year round.
We also sell a variety Cedar pattern stock; please see the Pattern section for details.
[table id=5 /]