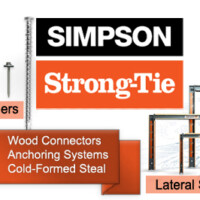 As a Simpson dealer you can benefit from our in store supplies. Our unique relationship with Simpson Strong-Tie always us to offer you a variety of anchor products such as Drop-ins, Sleeve-All, Wedge-All, EZA, LSES, LWSA, and Titen. We also have a variety of anchors such as =Countersunk Split Drive Anchors, Nailons, PSA Screw Anchors, Sure Wall, HWA, NT, and SWTB and much much more.
As a Result of the extensive lists we have provided a few key links below to their product brochures and website. Please give us a call to find out if your product is in stock today.
We provide the following products from Simpson Strong-tie
[one-third]
Search for Fasteners By Type
If Simpson has it Forest Lumber TrueValue can supply
Under One Brand–Unified in Our Mission and Commitment to the Customer
For more than 55 years, Simpson Strong-Tie has never stopped working toward helping our customers succeed by providing innovative products, full-service engineering and field support, product testing and training, and on-time product delivery. Simpson Strong-Tie offers a full array of products for residential, commercial and industrial construction. As we continue to move into other commercial and infrastructure markets, we will introduce new products designed to protect, repair and strengthen concrete, wood and steel structures. These new product lines, like all of our others, will feature the Simpson Strong-Tie brand and logo – and the trusted levels of service and quality you've come to expect.
Little did we know when Simpson introduced their first holdown in 1966 that the product innovations would lead to solutions that can help hold together five-story buildings during an earthquake or allow builders to install larger window and door openings in homes. Forest Lumber offers lateral-force resisting systems, including Wood and Steel Strong-Wall® shearwalls, Anchor Tiedown Systems and new Strong Frame® moment frames, gives designers and engineers added design flexibility in wood-frame construction and the confidence that almost anything is possible.
Find out more about Simpsons Lateral Systems on their website:
Simpson Provides a host of connectors by category. From Caps and Bases, Concrete Connectors, Decking and Fencing Connectors, Glulmam Beam Connectors, and Specialty connectors, Forest Lumber True Value has the connection you need at the price you want. See more on Simpsons wide variety of connectors at the link below.