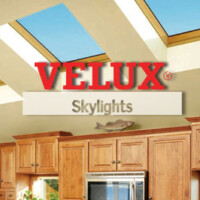 Discover the Dramatic Effect of Natural Light from Above
When it comes to building a new home, attention to detail is paramount in every aspect of the process, from choosing the proper house plan to selecting the finessing touches that make a house a home. Wheather it's the warmth provided by season's latest colors, the striking elegance provided by faucets and other kitchen and bath accents, or the drama provided by the perfect lighting, new homeowners are discovering a plethora of options limited only by their imaginations.
As a result, more and more homeowners are looking upward for inspiration. And what they've discovered is that including a skylight in the plan can make a huge impact on a new home.
Daylight is Free:
An important point to consider when installing a skylight is that daylight coming through skylights is free. Termed day lighting, or the use of natural light instead of electric light, the use of skylights can result in reduced energy consumption. it also speaks to an often overlooked benefit – the view. The view to the outside from skylights can be far superior to the view from windows, which is often shaded by zero-lot line home sites, trees of whatever the next-door neighbor keeps in his back yard.
'Green' SkyLights Offer Energy Efficiency, Natural Ventilation:
Skylights also play an important role with the environment. To that end, homeowners have brought the "green" debate inside their homes, demanding products that can reduce energy costs and improve indoor air quality. More often than not in this debate, consumers are turning to skylights due to the growing recognition that skylights offer numerous environmental benefits.
If you design home to use skylights effectively and select skylights with high performance glass, it can make a significant impact on energy consumption. Simply put, today's skylights are not your father's skylights. Heat transfer can be reduced with low-E coatings and moisture and odors via the chimney effect they create. as a result, architects and engineers are re-thinking the role of skylights.